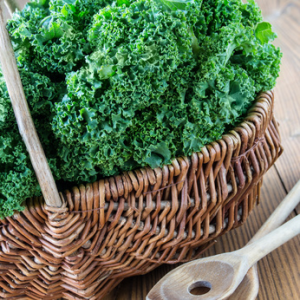 You may already know what a super food kale is.  I almost decided not to write about it because the grocery stores I shop at for kale are having a hard time keeping it in stock so there are times when I can't get it.  It seems like everyone is rushing in for some kale.  However, if you have not joined the kale rage and don't know how good it is for you, here are just a few of the benefits of kale.
Kale is packed with fiber and phytonutrients which helps in detoxifying your body.  Kale is high in vitamin C which boosts your immune system, helps with joint health, and increases metabolism.  Kale contains vitamin A for eye and skin health, and vitamin K for bone health.  Kale also contains potassium and iron.  Kale lowers cholesterol and reduces the risk of heart disease. 
Kale only has 36 calories per cup and no fat.  Kale is calcium rich and calorie for calorie contains more calcium than milk.  It is also high in iron, which is needed for proper cell growth and calorie for calorie, it contains more iron than beef.  Kale can help fight inflammation in the body like arthritis and other autoimmune disorders.
With that being said, there is one caution before you start eating to much kale.  If you are taking certain medications like anticoagulants, high doses of vitamin K can hurt the functionality of the drugs. It also contains oxalates. Even though these are natural, they can interfere with the way the body absorbs calcium. So, you may want to talk to your doctor about how much kale you can safely eat if you are on medication.
Kale is very versatile and I use it in salads, soups and smoothies.  Below is a recipe I found as I was flipping through a magazine one day.  It sounded interesting and I have since made is several times because I enjoyed it so much.  Kale paired with sweet potatoes and you have nutrition overload!  I hope you enjoy this salad.
Mustardy Kale Salad with Roasted Sweet Potato and Apple
2 sweet potatoes (about 2 pounds), cut into 3/4 inch pieces
6 Tbls Extra Virgin Olive Oil
Kosher salt and black pepper
3 Tbls fresh lemon juice
2 Tbls Dijon mustard
2 bunches of kale, stem removed and torn into bite-size pieces (about 10 cups)
1 Pink Lady or Honeycrisp apple, thinly sliced
1/4 cups chopped roasted almonds
Heat the oven to 400 degrees.  Toss the sweet potatoes with 2 tablespoons of the oil and 1/4 teaspoon each of salt and pepper on 2 rimmed baking sheets.  Roast, rotating the sheets and tossing the potatoes halfway through, until lightly browned and tender, 18 to 20 minutes.  Let cool slightly.
Meanwhile, whisk together the lemon juice, mustard, the remaining 4 tablespoons of oil and 1/4 teaspoon each of salt and pepper in a large bowl.  Add the kale and rub together with clean hands to tenderize and coat the leaves.  (Massaging the kale helps break down tough fibers.  Because of its sturdy texture, kale can be dressed up to 2 days in advance.  Add the remaining ingredients just before serving).
Add the apple, almonds and sweet potatoes and toss to combine.